Workshop:
Crafting Stories for User Experience
Learn how to collect, create, and use stories to make your UX work richer
A full or half day, practical workshop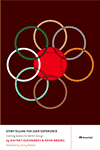 Do you have a good UX story waiting to be told? Storytelling taps our oldest way of communicating to give you fresh ways to:
Collect and use rich details to make user research information come to life
Explore a design idea to put it in context or show how it makes an emotional connection
Help a product team really understand a cultural perspective or point of pain
Create more realistic scenarios and tasks for usability evaluation
Engage your audience, allowing them to imagine the ideas for themselves
You might be surprised at how many different ways you can use stories in your UX work to make it more persuasive and compelling.
Most of all, we will practice creating and telling stories. Crafting a great story that requires some a little knowledge, a reasonable amount of practice, and a lot of listening.
Bring your own UX story material to develop in a safe atmosphere of constructive critique. You will work on your own stories as you try out different storytelling elements such as imagery, story structure. These stories can be told verbally, written, embedded in your website, or shared through social media.
At the end of this day-long workshop, you will have gotten started telling your own stories, and will leave with a story kit to use as inspiration for your next story (and the one after that).
The day will include…
An overview of all the ways you can include stories in your UX practice (and why it will make your work more effective).
Tips for collecting stories, with techniques you can use any time you are talking to (or observing) customers, users or experts.
A deep dive into crafting stories: story structures, using imagery, and setting context
Lots of time to practice creating your own stories, in a variety styles:

for personas (to share user research)
to explore design concepts (and show how they will be used)
for usability testing (with scenarios that users can connect to)

Advice on how to use stories in your UX process
Who should attend?
Anyone with a good UX story, who wants to tell it more effectively. Or anyone who would like to find out about stories in UX. That includes anyone who works on a website, application, device or service. Whether you focus on design, IA, research, usability, or content; manage, develop or create strategy.
Why the workshop is more than just reading the book.
It's true: all of the ideas in the workshop are covered in the book. As I've talked to people about the book, many already get the basic concepts. They may have already started to put stories to work in their projects. What missing is practice. Creating that first story. Or trying out a story technique, and having the confidence to bring it back to your team. By the end of the day, you will have created a handful of stories in as many different ways.
Some of the topics covered
Why stories work so well as a way to communicate user experience information.
How stories fit into typical UX activities (from design research, to user analysis, to design concepts and evaluation).
No more boring reports. Using stories to close the gap between the team and users.
How to listen for – and encourage – stories when you are working with users, stakeholders and subject-matter experts.
Identifying "juicy fragments" that you can develop into stories.
Finding stories in analysis data.
Story elements: Character, context, structure, imagery
Creating stories for personas or to explain user attitudes, context, behavior, and motivations.
Using stories to trigger brainstorming (even if you don't have a lot of data).
Adjusting your story to your audience or presentation format.
The ethics of stories – being true to the source.
Using stories to persuade.
… And much more (along with lots of time to practice your own stories).
Host this workshop
Bring this workshop to your organization. Contact me for details.
WQusability
whitneyq@wqusability.com
+1 908-617-1122
Buy the book