Voting and Usability
Like many people in the United States, I never paid much attention to how I cast my ballot. That all changed in November 2000, when we all learned how fragile our democracy can be.
Since then, we've heard many different suggestions for solutions, including better voting systems, Internet voting, and a return to paper ballots. For me, too many of these discussions focused on technologies, and not enough on the people who participate in an election.
In all of my reading, listening and studying, I've come down to a simple belief:
Usability - the ability of everyone to use the voting systems easily and effectively - is a key to free and fair elections.
I've also learned how complex an election is. Officials start planning an election a year ahead, and hundreds of people participate, from elections officials to the poll workers. Those people are part of the election too, and we need to consider the people who create, maintain, run and use the systems. The voter is the tip of an iceberg, and the usability of the ballot a symptom of the overall health of the elections process.
How I Got Involved
In December 2000, as a new member of the UPA Board of Directors, I was asked to start a project to focus on the election problems, and to become a lead advocate for usability in voting systems. The work of that project is available on the Usability in Civic Life web site.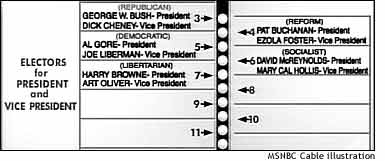 Over the next year, I continued to learn everything I could about usability and voting systems, including attending a workshop on Internet voting at the Georgia Tech Research Institute, where I presented a paper.
In the fall of 2002, the Federal Election Commission started a project to create standards for usability and human factors in voting systems. I was asked to serve on the Advisory Board for that project. Our first meeting was on October 16, the same day the Help America Vote Act passed in Congress.
In December 2003, I spoke on the accessibility and usability panel of the NIST Symposium on Building Trust and Confidence in Voting Systems.
In March 2004, I joined the usability and accessiblity working group for the IEEE Voting Systems Standards.
In June 2004, along with Louise Ferguson, Bill Killam and Josie Scott, I led a multi-disciplinary workshop at UPA 2004 on voting systems, and chaired a panel at the conference called "Can Usability Save Democracy?"
In June 2004, I was appointed to the US Elections Assistance Commission's (EAC) committee to develop technical guidelines for voting systems, where I am chairing the sub-committee on Human Factors and Privacy.
From June 2005 - March 2006, I was director of usability and accessibility for Design for Democracy.
In December 2005, the EAC adopted the 2005 Voluntary Voting System Guidelines, including new usability and accessibility requirements, which go into effect at the end of December 2007.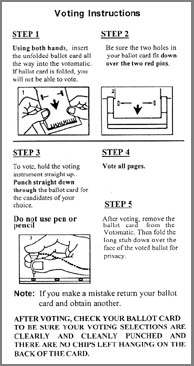 Other articles I have written on voting systems and usability
Creating a Univeral Usability Agenda
Creating an agenda for our work on the VVSG 2005 (federal Voluntary Voting System Guidelines)
Oops, They Forgot the Usability: Elections as a Case Study
Keynote at the Michigan State University Conference on Usable Information Technology
Putting People First:The Importance of User-Centered Design and Universal Usability to Voting Systems
co-authored with Sharon Laskowski, for the NAS project on A Framework for Understanding Electronic Voting
Starting from People
My presentation at the NIST Symposium on Building Trust and Confidence in Voting Systems
Voting for Usability
Backgrounder on usability issues in the 2000 Presidential election
What We Don't Know About Internet Voting and Usability
A talk presented at the Georgia Tech Research Institute workshop on Internet voting
Lessons from the 2000 Presidential Election
A short article on what the voting problems in Florida can teach us about usability for all products.
Open letter on verified voting and accessibility - January 27, 2005